A jewel set in the shadow of the Black Mountains
LLANDOVERY THEATRE 1978 – 2019
Llandovery Theatre Company pay Tribute!
RICHARD BOOTH, Self Styled King of Hay has died, 20th August 2019, aged 80 years! Eccentric, talented, exuberant entrepreneur, passionate advocate and lover of books, Founder of Hay-on-Wye bookshop town – Richard was friend and Patron to Llandovery Theatre and its Company of players from 1993, when he and Hope Booth came to see one of our plays: The Little Bit the Boy's Admire.
The following day, he called us:: 'I like what you are doing – how can I help?' We met, we talked – He said: 'I could make you the biggest Theatrical Bookshop in the Country – starting with 2000 books on theatre and the performing arts.'
1993 the Theatre Bookshop, placed adjacent to the Theatre coffee lounge, was opened by Cardiff West M.P. Rhodri Morgan. I have a faded newspaper picture of five happy faces – King Richard, Rhodri Morgan, Simon and me! Now alas – I am the only one left to continue the journey!
Books, reading and creative writing remain our passion, and over the years, we have introduced scores, nay hundreds of children and young people to the adventure into reading books and performing plays. We work with children and youth of all abilities, specialising with those with severe learning disabilities, at times launching one or two into the theatre 'business' and most times spreading the word that the ability to speak, listen, debate, read and write well will always be of benefit, whatever career path is chosen or foisted on one!
Recently I sent Richard a copy of Simon Barnes' Novel – Darkly Flows the Taff – a satirical 'spoof' on the arts and government, set in Wales. I received an email from Hope Booth with a wonderful critique of the book, starting with 'I am blind so my husband read this witty and amusing book to me – sometimes I laughed out loud! …We both loved the book and very much hope it will go into an audio edition for other blind people to enjoy.' I hope so too! Yet to do!
Darkly Flows the Taff is in Richard Booth's Llandovery Theatre bookshop.
The 'King' is dead, but his dream and support for others is still very much alive!
Our Publications
Click the image of your book choice to examine. For the next year, ALL royalties from sales of these books will go to the creative work and maintenance of Llandovery Theatre  Please buy now!
Horatio Nelson Theatre Cat
Reporting from my starry window-sill!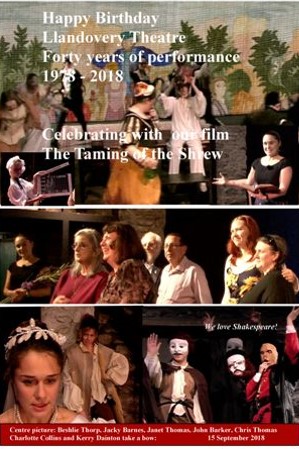 Thank you to all our actors, artists and colleagues for making Llandovery Theatre's 40th anniversary celebrations such a joy!   Forty years is a fine age, Jacky says she wishes it was her age and I, of course, with seven of my nine lives still to go, am forever young!
The showing of our Youth Actors' film The Taming of the Shrew was the set piece of the celebrations – and I have to confess I shed a few tears – to look back the 14 years to when it was made – to see the wonderful performance work of the young actors, and remember the fun we all had making the film.
In the centre picture: Beshlie Thorp, Janet Thomas, Charlotte Collins and Kerry Dainton are all ex youth actors – John Barker and Chris Thomas – our first and final editors on the film. John is an 'ancient' friend – he brought Simon and Jacky to Wales in 1973, driving the lorry with all their goods and chattels, (not to mention Jacky's potted plants) – an event re-told in her comedy play 'Out of the Frying Pan' performed in 1985 –  so John is really responsible for what has gone on in this theatre for the past 40 years!  Chris is the miracle worker that brought the film to life, and he and Jacky are still meeting to make it really perfect before turning it into a DVD.
As Christmas is on its way, I need to remind you that there is a really fun book available to give as a present – Darkly flows the Taff –  about a would-be James Bond, set adrift in West Wales to uncover a murder  – and, though it does not have any cats in it, it is a splendid read – written by Simon Barnes – available as an ebook or paper-back via Amazon. Read the reviews on our theatre web page – they are amazing!
We wish everyone a Very Happy Christmas and a Peaceful New Year!
---
The Taming of the Shrew
Watch The trailer;

Welcome to Llandovery Theatre 
We discovered this 'treasure' in 1975, when it was in poor health, decaying and near derelict. We fell in love with it, and despite warnings of  'you'll never do it'  we gathered round us a small team of stalwarts and began building work, producing Festivals and writing plays.  With no funding from the Arts Councils, local authority or lottery, it was to take 20 years to complete the theatre, though creative work continued throughout, and is ongoing to the present day .  (See Theatre History)
Our DRAMA WORKSHOPS with a group of young performers, who have disabilities, are proving happy and exciting.  (See Drama Workshops)
And we have 'ROYAL' ASSENT for SIMON BARNES comic novel – DARKLY FLOWS THE TAFF.
Richard Booth – King of Hay – read Simon's book, and immediately offered to promote it as the 'lead' book at his King of Hay Bookshop, Hay-on-Wye, throughout Spring and Summer. He also read the book to his wife Hope, who is blind, and she sent us a splendid review of the book, which you can read on Horatio Nelson 's Blog. together with other reviews our Theatre Cat has personally received about the book.
Simon Barnes – actor, writer, founder and creator of the Llandovery Theatre, wrote countless wonderful plays and scripts for the Llandovery Theatre Company, working with professional, community and youth actors.  He left this one novel and it is now obtainable at the King of Hay Bookshop, Hay-on-Wye or via Amazon.
(Read all about: Darkly Flows the Taff )
Llandovery Theatre Company survives and thrives by writing and producing its own work, and with the support and affection of its young actors and performers.
For up-to-date information, go to:   Llandovery Theatre Facebook page 
For 'critical' acclaim and personal observations, go to: 
Blog Horatio Nelson –Theatre Cat.
We welcome all interest, support and friendship. Do contact us.
Click on the News tab for latest information.
What they are writing about Llandovery Theatre:
                        Beautiful and atmospheric – preserve at any price ..
  'Possibly the most beautiful small Theatre and Arts Centre in the Kingdom'
Llandovery is a small market town in the upper Towy valley, on the edge of the Brecon Beacons National Park in South Wales, UK.